Motorists favour digital radio and wireless connectivity capabilities as the most popular in-car gadgets, according to research from Motors.co.uk. Almost 2,000 UK motorists took part in a survey about in-car technology, which sought to discover the features consumers would look for in their next car purchase.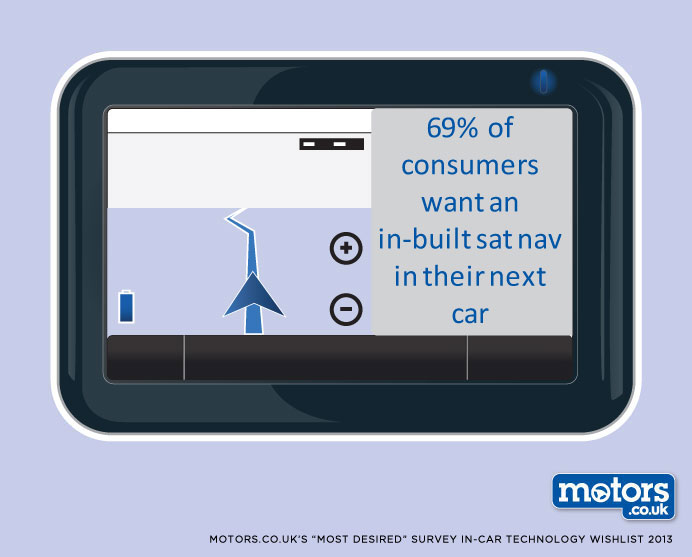 The survey, which was conducted in June 2012 and again one year later, showed that a digital radio still remains the most popular feature of in-car gadgetry, with 72 per cent of consumers saying they would look for this when purchasing their next car – an increase of 9 per cent over the last year. But despite this continued demand for the presence of more traditional technology, only two thirds (66 per cent) of motorists said they would actually carry on using the CD player/ radio.
Instead, the remaining 33 per cent said they would like to be able to play music from cloud storage directly through the car's control system. Wireless connectivity was a popular choice, with 53 per cent of motorists who responded to the survey calling for the ability to connect wirelessly to their MP3 or smartphone device in their next car. 29 per cent expressed a wish to use their phone's storage to play music through the car, and 9 per cent wanted to access music stored in the cloud (e.g. on Spotify) and play it via an app on their smartphone.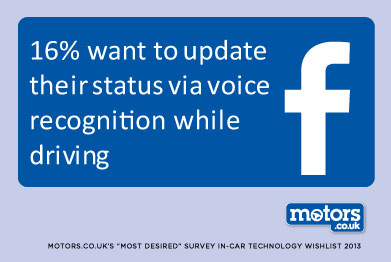 Consumer demand for in-built Sat-Nav technology also showed a rise of eight per cent in a year, revealing that over two thirds (69 per cent) of motorists would now prefer a car with an integrated navigation system than a separate sat-nav device. The research also revealed that almost two thirds (63 per cent) of motorists would utilise a wifi hotspot in their car (a rise of three per cent), with the 35 – 54 age group the most likely to use this feature. With smart, key-free technology emerging, such as Ford's Power Starter button and Keyless entry system, over a quarter of motorists (27 per cent) would also like the ability to use their mobile phone as a car key. Additionally, 16 per cent would like a car with an in-built games console, a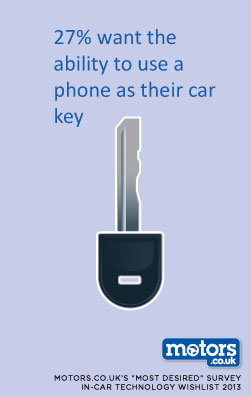 nd over two fifths (41 per cent) would like a built-in DVD player within their next car.
Dermot Kelleher, head of Research and Business Intelligence at Motors.co.uk, said "Dermot Kelleher, head of Research and Business Intelligence at Motors.co.uk, said: "With 58 per cent of the population now owning a smartphone and the average price of an entry level smartphone now just £83, it is perhaps no surprise that some of the biggest increases year on year in terms of the most desired in car technology relate to mobile phones. "Nearly forty per cent of consumers would like to use the music stored on their phone in the car and even more interestingly over one in four people would like to use their mobile as their car key.
This data point – plus the fact that in a survey last year more respondents said losing their mobile was a more stressful prospect than losing their wedding ring[1] it seems like the phone is the one device that people make sure they never leave home without – something car manufacturers absolutely need to take into consideration."
See the full results at In-Car Technology Survey Infographic.