Here at Motors.co.uk, we love our cars. So, we wholeheartedly encourage a similar zest for all things four wheels from the younger generations. At Christmas, there's no better time to indulge your children's love of cars and so we thought we'd compile a list of our top five car-related toys for 2015/16.
1. Little Tikes Cosy Coupe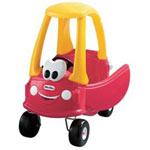 This is an oldie but a goodie. The Little Tikes Cosy Coupe is the ideal gift for a really little car fan or two, as it easily fits in a mini passenger. The classic car gift now comes in a variety of different colours but we still favour the traditional yellow and red combo.
RRP £54.99
2. WowWee R.E.V Smart Cars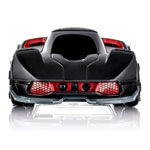 Ranked as the number one remote control cars for 2015, the WowWee Robotic Enhanced Vehicles are the perfect present for car and gadget lovers young and old. You'll get two cars for your money and can battle against another player in combat mode or take on the machine itself. No track required either so prepare for your home to be overtaken as a racetrack.
RRP £59.99
3. Feber 12v Ferrari in California Yellow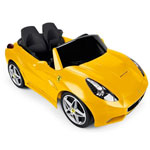 For the little one that has everything, why not ensure they look the part as they travel from play shop to play kitchen in this fabulous battery-powered Ferrari. What better first car? This sporty little number may not have all of the luxurious finishes of the real deal but, as play cars go, its pretty much top of the range. The ultimate mini four-wheeler comes with a realistic interior with a foot brake, forward and reverse gears and a sports-style steering wheel. Adding to the realistic experience, the Ferrari also has wing mirrors and play seatbelts!
RRP £279.99
4. Wooden Racetrack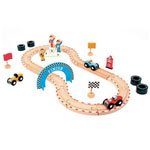 For those of you who hanker for the more traditional Christmas toy, this beautiful wooden race track could be the perfect option. Featuring everything you need to create the ultimate race day adventure – including three racecars, complete with drivers, a podium, spare tyres and pit stop accessories – this will keep the little ones entertained for hours. Beautifully handmade and painted too!
RRP £45
5. Scalextric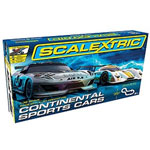 That's right, a Christmas present list centred around cars just wouldn't be complete without a mention of Scalextric. The mini racers first came onto the market almost 60 years ago and have remained popular with car-nuts to this day. We really like this Scalextric Continental Sports Cars Set, dubbed the ultimate introduction to the world of slot racing. The cars whizz round the track at top speed and are able to cope with all the knocks and bashes of real racecars for the ultimate on-track battle. Hours of fun for everyone during the festive period.
RRP £59.99