This is the updated and redefined version of SsangYong's Korando SUV, which first appeared in 2010. It's one of the cheapest crossovers on the market and the top of the range model even comes with all-wheel drive. It's the very car that will become the budget Dacia Duster's biggest rival and as SsangYong expands its line-up of functional SUVs, it's also carving its own niche in the UK market, appealing to the likes of caravan enthusiasts.

Korando is offered at great value and cheaper than a mid-range Ford Fiesta. Price of just £6,495.
What is it?
SsangYong's Korando is the SUV that offers top value for money by combining cheap running costs with 4×4 space, all for the price of a small hatchback. In fact, the entry level Korando is priced cheaper than a mid-range Ford Fiesta.
In comparison to its predecessor, numerous revisions to the cabin coupled with refinements to its exterior design have given the Korando quite a boost in appearance, especially with the addition of its new sculpted headlights and LED daytime running lights. It even comes with an extended equipment list.
However, when it comes to dynamics and handling, the Korean Korando is still behind a number of its German and French rivals. But with a starting price of just £14,995 for the entry level 2.0-litre SE and £16,495 for the cheapest four-wheel drive 2.0-litre SE4 model, you can't really complain.
What is it like to drive?
The Korando scores greater points for its off-road abilities than it does for standard on-road driving. The ride is relatively smooth on even surfaces but the driving experience becomes noticeably jerky along country lanes, while the cabin is noisy, with engine, road and tyre noise intruding at higher speeds.

173bhp
2.0-litre turbodiesel unit produces 147bhp or 173bhp with  37.7mpg and a top speed of 112mph and
Entry level models come with front-wheel drive, while four-wheel drive models use the front wheels for normal road driving only sending power to the rear when it's required. The Korando also features a 50/50 locking differential as standard with decent right height clearance, making it perfect for off-road ventures. It's also fitted with plenty of safety gadgets such as Electronic Stability Control, Active Rollover Protection, Hill Start Assist and Electronic Brakeforce Distribution, enabling drivers to easily tackle steep hill climbs and damp descents.
SsangYong's 2.0-litre turbodiesel unit produces 147bhp or 173bhp and it is the lower powered option that is the more appealing option, being mated to a six-speed manual gearbox. The 173bhp version comes with the six-speed automatic gearbox, which is sluggish and tends to hold onto the gears for a little longer than preferable, keeping the revs a little too high and possibly why its combined fuel consumption is an unimpressive 37.7mpg. Nevertheless, both engines develop the same 266lb ft torque, helping it to pull its maximum two tonne towing weight.
What is it like inside?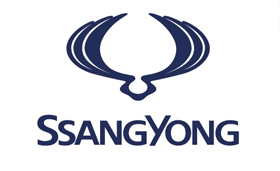 It's obvious from the moment you step behind the wheel that the Korando has benefited from some significant improvements. Its overall build quality has been updated with the addition new soft-touch materials and chrome-effect finishing. The interior still remains a tad bland with a basic colour scheme, but the dashboard has been updated into a more attractive style. Elements such as the switchgear feel a little cheap and brittle.
On a more positive note, the Korando still scores top points for its high-levels of space, legroom and headroom, as well as multiple large storage compartments. The rear seats recline and fold completely flat, vastly increasing the standard 486 litres luggage capacity.
It even comes better-equipped with numerous gadgets on higher-spec model variants. Our ELX4 test car came with an electrically-adjustable driver's seat, full leather and heated seats, privacy glass, air conditioning and rear parking sensors. It also features an MP3/CD radio iPod connection and Bluetooth connectivity.
Is it practical?
The Korando is definitely practical. The fact that it has the ability to tackle both mud and snow and not get stuck let alone tow two tonnes of weight with a full load of 486 litres of luggage in the boot makes it the perfect SUV for families who enjoy taking part in frequent outdoor activities. It's not the most comfortable car in its segment, but it certainly offers top value for your cash. And if you own a caravan, the Korando is the ideal crossover to hook it on to.
Should I buy one?
If you want a workhorse that will still be running 20 years down the line and you're not overly fussed when it comes to comfort or performance, then the Korando is perfect for you. It's cheap to buy, easy to manage and considering its price-tag, extremely well-equipped. However, if you simply desire a larger but stylish car for everyday commutes and a bit more luxury, it's better to stick with offerings from the more mainstream brands.
The facts
SsangYong Korando ELX4 Four-Wheel Drive, Auto
              £14,995
              2.0-litre e-XDi turbodiesel
              147bhp
              37.7mpg
              199g/km
              9.9 seconds
              112mph