For those with cars over three years old, the annual MOT test can be a nerve wracking and potentially costly time, but with a little bit of planning it needn't be such a headache. Today, vehicles are more reliable than ever, but what many of us don't realise is that there are simple things that can lead to a failed MOT that could affect anyone. To help, Motors.co.uk outlines the checks you can make to help identify and correct faults in advance, to help ensure a successful trip to the garage.
1. Buckle up– check that all seat belts in the car fasten into the buckle securely and there's no damage or tears to the strap itself. Safety belts can be an easy area to overlook, especially if you have seats in the car that rarely get used. Further details of what damage to check for are given by the Royal Society for the Prevention of Accidents.
2. Light bulb moment– we all know we need to make sure our car lights work, but how many of us can honestly say we check every bulb ahead of an MOT? The best way to do this is to walk around your car with all lights switched on, remember to check number plate and hazard lights too. To test the brake lights you'll need to enlist a helper, or park somewhere you can see their reflection.
3. Seeing things clearly– make sure you have a good look – and test – of your wiper blades. You're looking for cracks or any signs of damage and the blades need to clearly wipe the windscreen. While you are there, take a good look at the windscreen itself. An MOT will fail if there's any damage over 10mm in the line of vision.
4. Tyre time– tyres must meet a minimum tread depth of 1.6mm and be free from cracks or damage. Michelin have more guidance on how to check tread.
5. Exterior checks– check every aspect of the outside of your vehicle for damage or excessive rust. There must be no obstructions that could be dangerous to other drivers, and don't forget your number plate – this must be fully secured, free from cracks and be clear to read from 20m away.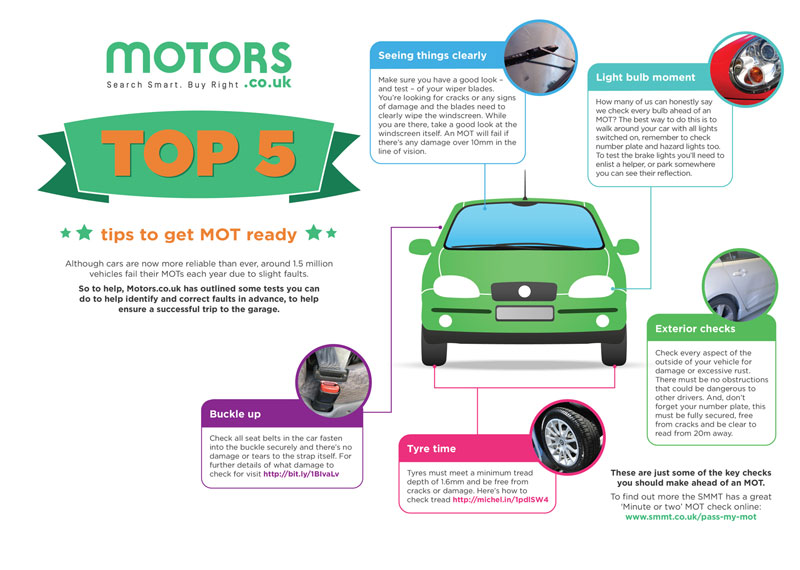 Please feel free to place this infographic on your website.