It might still be chilly outside but as the sun begins to shine through, the mornings definitely have a feeling of springtime about them. That's why now is the perfect time to give your car some love, and cleaning out the winter accessories is a great way to ensure you stay organised (and fuel efficient).
We've rounded up five of the best accessories under £20 that'll help keep your car looking smart this spring and won't break the bank.

5. Meguiar's Ultimate Wash & Wax, £18.00, Meguiar's
Ultimate by name, ultimate by nature, this shampoo is a brilliant all-rounder which gives a gleaming finish. It's a large bottle packed with premium ingredients meaning a little goes a long way. It's great for boosting bodywork protection between your regular waxing and it smells like banana too which we love!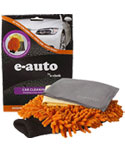 4. e-Auto Car Cleaning Kit, £14.99, Lakeland
This pack of three cloths will make you question why you ever thought it was ok to use a rag to clean your car! The mixed set includes a dual action mitt with fronded and smooth sides to remove dirt and grime, a dry and shine cloth for a perfect streak-free finish, and a glass and chrome cloth to leave glass and paintwork sparkling. Plus these have been designed to be used with just plain water which is ideal for allergy sufferers and is great for the environment too.
3. Henry Car Bin, £7.94, Amazon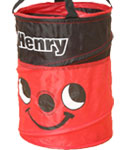 The instantly recognisable face on this Henry bin is great for brightening up your interior along with making sure things are kept spic and span – and keeping your car in good condition will help to maintain the vehicle's value if you come to sell or part exchange in future. This collapsible bin is space saving and waterproof (so don't worry if a messy passenger throws in an unfinished drink) and can hold a huge nine litres of rubbish – which we think is just enough to hold sweet wrappers from even the longest of journeys! It also has a carry handle to make it easy to empty after each trip.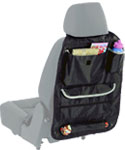 2. Car Seat Pocket, £9.99, Halfords
While some cars already have seat-back pockets, others may not, and if that's the case for your family car then this may be a solution worth investing in. Perfect for the Easter get-away and deceptively spacious, this seat pocket can really pack away a lot and is ideal for keeping the kids' entertainment tidy. The wipe clean material is an added bonus and its universal fit means you won't have to replace it if you change your car.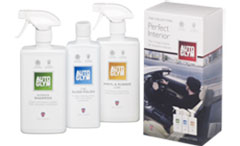 1. The Collection Perfect Interior, £16.49, Autoglym
This kit provides everything you need to get your interior polished to perfection and smelling sweet. The shampoo can be used on all surfaces including mats, seats and dashes and the glass polish is great for giving your windows a deep clean to get them back to their original sparkling state. Finally finish off with the protective spray to help keep things looking good for longer.