Recently we've had the pleasure of driving the brand new BMW M3. As you can read here, the new model is astonishing, not only as a piece of engineering but because it is all the car anyone is likely to need. As new cars go, there are few other £55,000 models that talk their case so convincingly. But as good a family hold all/super car/executive wafting machine as the M3 is, can a four-door saloon really be desirable? The perfect car should have that element of passion about it, which no matter how you slice it, isn't what a hotted up German rep mobile is all about. So, can you find something for similar money that has all the same facets as the M3 but with a touch more sex appeal? You can in the classifieds – here are our top five thrill machines for M3 money.
Maserati Quattroporte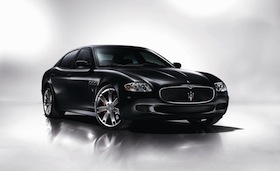 If you're looking for that rare combination of top-drawer luxury and white-knuckle thrills, the Ferrari-engined Maserati Quattroporte is a compelling proposition. While you won't get into the new model for M3 money, the gorgeous previous generation version is well within grasp. It's arguably better looking than its successor, with gorgeous lines penned by celebrated Italian design house Pininfarina. The interior is typically Italian, all sumptuous, expensive-smelling leather and hell to the fact none of the buttons are located where they should be. Thanks to the Ferrari connection, this huge limousine handles with a poise and light-footedness completely missing from the usual German suspects, and is the car of choice if you want M3 dynamics in a larger, more stylish package.
Nissan GT-R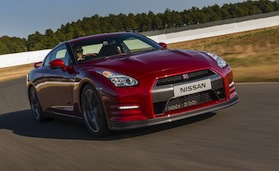 With its ferocious 3.8-litre twin-turbo engine, and a turn of speed that would see a modern-day Ferrari cowering in the corner of the garage, the Nissan GT-R is arguably too hardcore to be considered an alternative to the M3. However, used prices have now dipped below £50,000, and it comes with four usable seats (though only two doors, sadly), and has plenty of performance appeal to tempt buyers away from the Bavarian brand. With four-wheel drive and well over 500bhp on tap (power figures vary each year as Nissan continually updates the model), the GT-R is amongst the fastest accelerating production cars in the world. Not bad considering it can be snapped for the price of a compact BMW saloon.
BMW M3 (E30)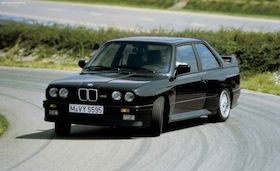 If you want an M3 that really has some wow factor about it, you need to seek out the original. The E30 M3 was the car that put BMW's M Division on the map, and cemented the brand's reputation as a purveyor of outwardly sensible cars that would happily rip your face off. It's just as practical as the modern version, though like the GT-R only comes with two doors. No matter, you'll forget all about the comfort of your rear seat passengers once you get to a decent stretch of road – the E30 is considered one of the finest drivers cars of its type ever made. They're expensive for what is a decades-old piece of tin, but rest assured that it'll appreciate while it's making you look good.
Lotus Carlton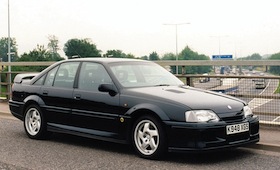 The Carlton is what you get when you take a humdrum Vauxhall family saloon and give it to Lotus' crack team of engineers. The ultimate in stealth performance, the Carlton doesn't wear any of the trinkets of high-performance, save for a large fixed rear wing. Released in 1990, its turbocharged 3.6-litre engine was enough to get it up to a top speed of 177mph; plenty fast enough to scare supercars of the time. If you want one you may be in for a long search, as the Lotus Carlton is both rare and sought after.
Porsche Panamera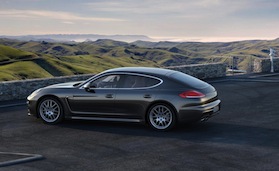 For many driving enthusiasts Porsche is the go-to brand, and it's not hard to see why. Its diverse range of products exude a quality and depth of engineering that you simply don't get from other carmakers. Oh, and they're ruddy quick, too. For those needing the practicality of four doors and seats, the Panamera is the model for you. It's available with a wide range of engines, including diesels and hybrids, though keener drivers will want to seek out the petrol V8 versions. It's lighter than it looks too, making it a proper thrill machine when it's time to play.