The increase in dog-friendly hotels and rental cottages, plus the introduction of pet passports, has meant that it's never been easier to take your pooch on holiday.
But are you prepared for taking your furry friend on a long journey? According to the Highway Code, you must secure your pet while travelling in a vehicle so he/she does not distract the driver or become injured if the vehicle brakes suddenly.
There is a range of must-have accessories that you should buy to ensure the safety and comfort of not only your dog, but you too. They may also help to keep your car clean which is always a bonus!
So, what do we recommend?
1. Travel crate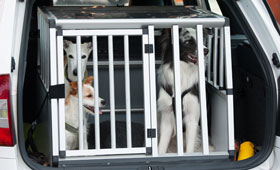 These are very popular because they help to keep mans' best friend safe in a contained area. Make sure you buy one that allows your dog to stand up to full height, turn around and sit down in a natural position, which is what the RSPCA recommends. Add some bedding, too, to ensure your pet is comfortable.
We like the range shown here on Petplanet.co.uk.
2. Guard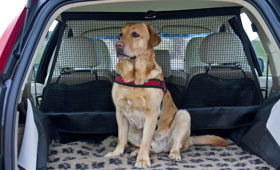 If you are happy for your dog to stay in the boot, then you'll need a guard to ensure that he/she stays there and doesn't try to jump into the seats where you or your passengers may be travelling. You can also buy guards that block the area between the front seats, thus preventing your pet from excitedly jumping from the back seats to say hello.
Argos has a great range to suit most needs.
3. Harness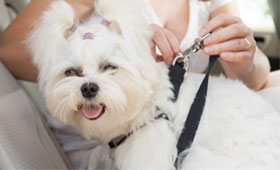 This is another great way to keep your dog safe and secure. The harness links to the seatbelt system so you know he or she will be comfortable, safe and sound. Make sure you buy the right size harness, though.
Pets At Home has a full range, as well as advice on the best choice for you.
4. Travel food and water bowl
We all need to stretch our legs and have a bite to eat and a drink when we go on a long journey and your pet is no exception. Travel food and water bowls are ideal when you're on the go. You can buy foldable fabric or silicone receptacles as well as plastic cases that contain a section for food and a removable canteen for water. We also like the Buster Food Cube which you can fill with their favourite treats to keep them entertained on a long journey too. Lifesaver!
5. Waterproof blanket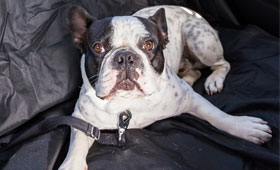 To keep those muddy paws off your upholstery a waterproof blanket is an absolute must for any car owner with a dog! You can buy hammock-style blankets, if your pet is able to luxuriate across the entire the back seat area, or a boot protector that combines waterproof backing and a cosy fleecy blanket will do just as good a job.
We like this seat cover from the aptly named muddypaws.co.uk.