Mini has lifted the covers off a bold new convertible concept, which points the way to a forthcoming production model destined to rival the dominating Mazda MX-5.
Called the Superleggera Vision concept, the striking two-seat car has been designed in conjunction with renowned Italian designers and coachbuilders Touring Superleggera.
Described as a blend of 'modern Britishness' and Italian design flair, the Superleggera Vision uses classic Italian construction techniques, including hand-shaped metal panels. Its design also pays homage to a number of iconic British models, including a rear fin reminiscent of the Jaguar D-Type of the 1950s.
A production version of the Superleggera Vision concept is expected to act as a flagship model for the Mini brand, and be an indirect replacement for the current roadster variant.
Mini has a rich history of creating attention-grabbing concept cars. Here is a run-down of five of its best:
Rocketman concept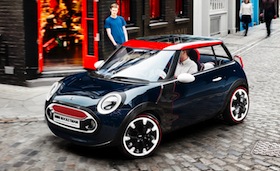 Unveiled at the 2011 Geneva Motor Show, the Rocketman showcased a tiny car – around a foot shorter than the hatchback model. Like most attention-grabbing motor show fodder it had unusual design touches like carbon construction and cantilevered doors. It was hoped that the Rocketman previewed a new, more-driver focussed version of the iconic hatch, but in 2012 Mini announced it was to stay as a concept due to a lack of commercial viability.
Beachcomber concept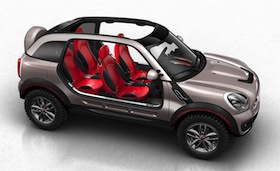 Attempting to ease Mini enthusiasts into the idea of a high-riding soft-roader bearing the iconic name, the brand released the Beachcomber concept at the 2010 Detroit motor show as a preview to the Countryman crossover. Featuring the brand's newly developed four-wheel-drive system, the Beachcomber came with a retractable soft-top roof and body panels that could be removed completely and stored in an on-board container, making it the ultimate tool for coastal sun-seeking fun.
Paceman Adventure concept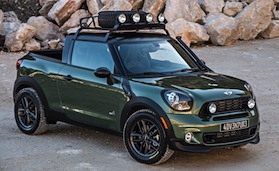 This rough-and-tumble pickup truck was the result of BMW allowing its design apprentices free reign with its Paceman model. Transforming the cuddly coupe-crossover into rugged mean machine, the Paceman Adventure is the ultimate riposte to those who criticised the dinky SUV for being a bit girly. It wasn't all show and no go, either. Fitted with Mini's ALL4 all-wheel-drive and a 180bhp turbocharged four cylinder engine – not to mention sports seats and a row of roof-rack mounted spotlights, it looked every inch the mini Dakar refugee. Unfortunately Mini currently has no plans to turn the Adventure concept into a production model.
Clubman concept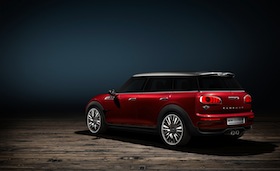 The longest and widest car yet designed by Mini, the Clubman concept points to the successor of the current generation Clubman 'estate', which was derided in some quarters for bearing an unflattering resemblance to a bread van. Thankfully Mini listened, and the new concept shows off a much sleeker and elegant design, and the removal of the single rear 'suicide' door in favour of a more conventional family car arrangement.
Hydrogen concept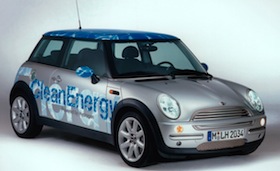 With parent company BMW developing hydrogen technology for its flagship 7 Series limousine, it was only right that Mini unveil its own vision of emissions-free motoring. While it may not have the out-there styling of its concept siblings, it is this car that is arguably the most important, as it previews a wholly sustainable form of mobility from the brand. A 'green' Mini didn't make it to production until 2010 in the form of the 'E', a plug-in battery vehicle capable of covering 150 miles on a single charge.