Romanian manufacturer Dacia has caught the eye of many with entry into its range starting at a tempting £5,995. Despite being almost 50-years-old, the brand only began trading in the UK last year, and so remains a relatively unknown proposition on these shores.
That is of course, unless you're a fan of Top Gear, in which case you'll have witnessed James May's endless championing of the brand.
It's easy to see why he loves the cars and why they've become so popular. What you get for the price is almost too good to be true. So far in the UK Dacia have released four models, the Duster, Sandero, Sandero Stepway and Logan MCV.
They're not luxurious, they're not you're dream car but if you're just after a utilitarian workhorse that you won't have to worry about where you've left it at night or what your dog is doing to the inside, then they could be right up your alley.
However, Dacia's ethos of producing "shockingly affordable cars" does come at a price. The brand's flagship vehicle, the Duster SUV, received only three Euro NCAP stars – when nearly all of its competition was awarded the full five stars – and scored particularly badly for pedestrian protection.
For this reason, consumer advisors Which? have placed a "Don't Buy" rating on the £9,495 Duster. This hasn't stopped buyers though. In 2013 Dacia sold over 17,000 vehicles. That's more than establish brands Jaguar, Mitsubishi, Chevrolet and Lexus did in the same period and it makes the launch of the brand the most successful in UK history.
Motors recently had the opportunity to briefly sample the entire Dacia range. Here is what we thought:
Logan MCV Laureate TCe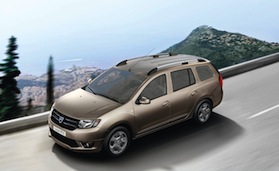 First impressions of the Logan are it's big. MCV stands for Maximum Capacity Vehicle and load space was clearly at the top of the agenda, with the car designed to be as practical as possible. For £6,995 you get enough space to comfortably fit five adults and 573-litres of boot space but you can extend this to over 1,500 if the back seats are down.
The relatively handsome exterior gives way to a cabin that is best described as plain and basic. That said, the controls are logically laid out and it's comfortable enough to tackle longer road trips.
The drive isn't disappointing either. We tried out the 0.9-litre TCe petrol Logan, which gives the added bonus of extra MPG over other petrol models in the range. It was smooth and relaxing to drive and despite carrying extra weight than the smaller Sandero, it's no less of an effort either in town or on the open road.
Sandero Access 1.2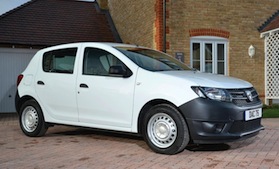 The cheapest car in the Dacia range, the Sandero Access is a compact but still practical supermini with plenty of space inside for the average family. Being basic makes it lightweight and surprising fun to drive, and will raise an unlikely smile on your favourite B-road.
It seems like a bargain at £5,995 but to get it at that price you have to sacrifice your style and drive around in the car equivalent of nurse's shoes – the car finished in UN spec white paint with clashing black plastic bumpers. Add at least £1,200 to your bill and the Sandero looks more respectable but that raises the question – why not go for the much more practical Logan?
Sandero Stepway Ambiance dCi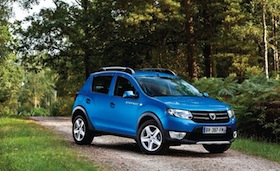 Despite sharing a name the Sandero Stepway crossover is a different beast to its hatchback sibling. We tried out the diesel version and, apart from being quite sluggish off the line, there's no real performance deficit in real-world driving.
The Stepway has an all round meaner look and bulkier styling. This supermini dressed up as an SUV has great curb appeal, and with a price tag starting from £8,395 it's still great value.
Duster Laureate 1.5 dCi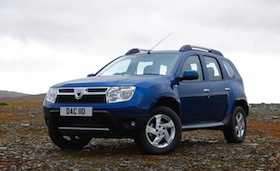 Dacia's 4×4 offering is the most desirable vehicle in the range, offering genuine off-roading ability in a simple yet handsome package. The 1.5-litre diesel option may sound agricultural – and fairly noisy from inside the cabin – but there's no doubting it can haul the Duster with ease.
What's more, selecting the right options can quickly and inexpensively improve both the interior and exterior styling. Those looking for even greater style and exclusivity can choose from a number of special editions, including the aggressive looking Black edition. Prices start from £9,495 and rise to £15,495.
Fancy your own Dacia? Check out our classifieds for a used or nearly new one here.