School's out and many recent graduates may be considering getting a new car as they make the move from being a student into full time work.
But which models make the most sense to young drivers on a tight budget? Here is our guide to the best the market has to offer, which major on economy and frugality, but which don't sacrifice on having fun behind the wheel.
Ford Fiesta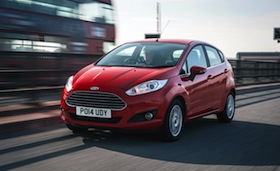 The Fiesta is Britain's bestselling car and with dozens of new and used versions to choose from, most drivers should be able to find a version to suit their needs and budget.
Prices in showrooms start at just under £10,000 for the entry-level 1.2-litre model. With a meagre 59bhp on offer it needs a lengthy 16.9 seconds to lumber its way up to 62mph. Consequently though, insurance should be affordable for young drivers.
If you can stretch to £14,000 the turbocharged 1.0-litre petrol with 99bhp on tap is an impressive alternative. This model can scamper from nought to 62mph in a brisk 11.2 seconds but still records very impressive claimed fuel economy of 65.7mpg – over 11mpg more than the 59bhp 1.2.
Toyota Aygo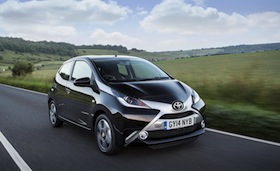 If you're looking to spend less, but don't want to sacrifice on fun, the brand new Toyota Aygo is available from just £7,995. The new Aygo has very striking styling on the outside and a sensible engine on the inside.
All models come with a 1.0-litre petrol engine which offers a very strong official economy figure of 68.9mpg in manual form – meaning that fuel bills should be low. Acceleration is reasonable too, with the car needing 14.2 seconds to hit 62mph from a standstill.
Skoda Citigo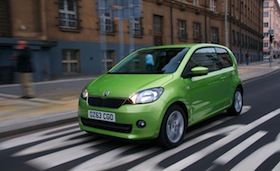 Skoda's Citigo is essentially identical to the Seat Mii and Volkswagen Up but undercuts them in the showroom. With prices from £8,210 the Citigo shouldn't make too big a dent on your wallet, but it's big enough and capable enough on faster roads to suit a new graduate for a number of years to come.
Put down a deposit of £2,553 and a 59bhp Citigo could be yours from just £75 a month, including three years' free servicing and zero per cent APR. Opt for the 59bhp GreenTech model and you also get an Aygo-matching 68.9mpg, plus free car tax under the current rules.
Fiat 500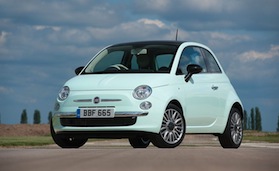 With its retro lines and countless personalisation options, you can create a 500 to match your taste. Go for one of the 0.9-litre TwinAir models and you get a characterful thrum from under the bonnet to match the car's cheeky styling.
In 85bhp form this engine powers the 500 to 62mph in a nippy 11 seconds, but claimed fuel economy is very impressive at over 70mpg. Prices start at just over £12,000 for a TwinAir equipped 500.
Suzuki Alto
The Dacia Sandero may be famed for being the UK's cheapest car, but thanks to VAT free offers from Suzuki you could pick up an Alto for a Sandero-matching £5,999. Go for the top of the range automatic model and you'll still have change from £8,650.
Thanks to its light weight this city car can scoot to 62mph in 13.5 seconds, but is still capable of over 65mpg. The Alto may not be as big as the Dacia, but fuel economy outstrips the Sandero's figure of 48.7mpg.
Main Image: Fotolia